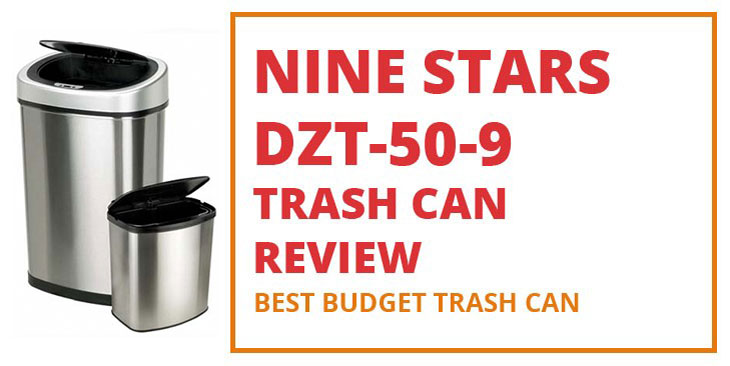 Nine Stars DZT-50-9 Review – Best Budget Trash Can
When I was growing up, I was always intrigued by trash cans that you just step on a pedal, and it opens up. I had always had the type that was kept open under the kitchen counter. It was either one of those or ones where you had to push trash in through the top. I would see the step on trash cans at my friend's house, and I wondered why my family didn't have one.
Nine Stars DZT-50-9 Trash Can Review
I understand the benefits of easy access of trash cans. They are so much easier to throw trash away without getting dirty. The smell can be locked in so that the trash isn't in the open air.
Those factors alone made me start looking for a new trash can, and I think I have found it. The Nine Starts DZT-50-9 Infrared Touchless Stainless Steel Trash Can is on my shopping wish list for a variety of reasons. Some of them are described below.
Size
The size of the trash is very appealing to me. It holds about thirteen gallons of garbage, and it does not take up a lot of space. The larger capacity means that I don't have to run outside to dump the trash as often.
It fits comfortably in the corner of my kitchen and doesn't take up too much space. It isn't heavy at all, which makes it easy to move around for cleaning underneath and behind it. It is very compactable but holds a lot of garbage.
It's Clean
The fact that I don't have to put my arms into the trash can means I can stay clean. I don't even need to push a pedal to open it! The infrared sensors detect when I need it opened, and it opens automatically. I just need to be within ten inches of the sensor, and the can will open.
It's very handy for when you are trying to throw out bundles of garbage. I love the fact that I don't need to put in extra steps to throw away my garbage.
It Runs off Batteries
I appreciate the fact that I don't need to use an outlet to plug the trash can in for power. Most of my outlets are used for other appliances and cell phone chargers. I can use "D" or "C" batteries to make it work.
The battery life is excellent because I can use them for months before they have to be changed. The battery life helps save me money over time since I don't have to buy new batteries as often. If I had to find an outlet to plug in my trash can, I would probably wind up having to put it in the garage.
It is Stainless Steel
I love having stainless steel appliances. They look excellent, and they are easy to clean. I have had a lot of plastic trash cans, and sometimes it's hard to get them cleaned. Taking hot water and soap and wiping away any sauce or grease is so much easier.
I have a lot of stainless steel appliances, and I only spend maybe thirty minutes a week cleaning everything down. It makes it simpler to deal with spills and messes.
As with a lot of online purchases, I had to see what the pros were.
It seals odor to keep your kitchen smelling great
Cross-contamination is not a problem because of the touch-free operation
The energy saving technology provides battery life 20% better than other battery operated appliances
A garbage bag ring holds the bag very well, and it is easy to remove.
On the other side, I needed to see what the downsides of this product were.
Circuit design may not be the best quality
Reset button may not work properly
Lid has a tendency to open and close by itself
Customer service staff do not appear to be helpful
Warranty does not cover the lid if it breaks at the hinges
If it is not an electrical issue, the warranty does not cover the damage
After reading the cons, I looked further into the features to see what made it stand out.
Hands-free, and it works with an infrared laser
Offers a large capacity to hold a lot of garbage
Cleaner than traditional trash cans because you don't need to put your hands inside the trash can
Commercial grade stainless steel, with ABS plastic
Finger resistant and has a non-skid base
Power efficient, allowing you to open the trash can 10,000 times before you need to replace the batteries
Frequently Asked Questions
Q: Can dogs open the trash can?
A: Depending on the type of dog, it is possible for them to open the trash can. Larger dogs that are taller can use their noses to open it.
Q: Can the trash can be opened manually?
A: If the batteries die, or you don't want to use the battery operation, a handle is built into the lid. You can also turn off the battery operation if you prefer not to use it.
Q: How far does the lid open?
A: The lid will open all the way once it detects your hands. It allows you to throw away a lot of garbage at once. It will save you time to not have to take the garbage out frequently.
---
Final Verdict
I recommend this trash can because it is more sanitary than other trash cans. The infrared laser is a great addition, and it responds very well. Though there may be some issues, these can be handled easily with the right parts.
Since I dislike getting my hands dirty by shoving garbage into the trash, the large capacity and easy use are perfect for me. The battery operation is excellent because I am not spending money on my energy bill to power the trash can. The long battery life is very helpful in saving me money on buying batteries for it. It is a good trash can and does what I need it to do.