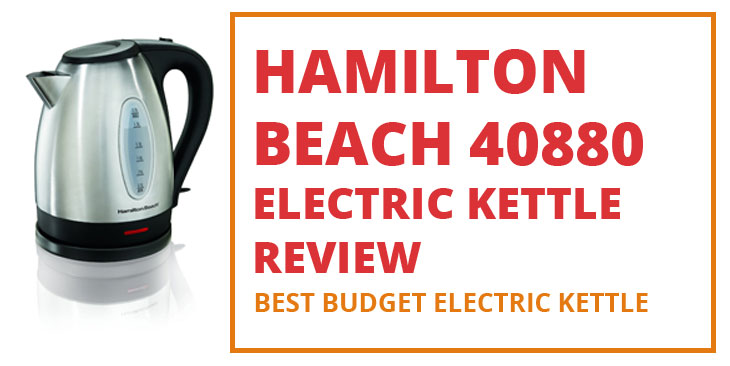 Hamilton Beach 40880 Review – Best Budget Electric Kettle
As a kid, I would go to my grandparent's house, and they used to make coffee in an old-fashioned coffee kettle. Since my grandparents lived on a farm, they did not always have the higher-quality kitchen products. They had what they needed, and it worked for them.
Over time, that coffee kettle had grown old due to daily use. I decided that they were ready for something better.
I did my research into electric kettles, and I found that the Hamilton Beach 40880 Electric Kettle would be a perfect addition to their kitchen. It is stainless steel, which makes it easy to clean. Since I got it for them for the holidays, they have used it on a daily basis, and they could not be more grateful.
Hamilton Beach 40880 Electric Kettle Review
Though I stumbled upon a lot of good kettles, I decided to purchase this one, due to the many features and convenience of the kettle. Some of them are described below.
It heats faster than a microwave
It's great because it does not take a long time to heat up water. They can put water into the kettle, turn it on, and wait only a few minutes. The speed that the kettle heats up prevents the water from cooling. Since the water does not cool very fast, they can take time to enjoy their drinks. My grandparents love having their coffee hot, especially when they want more than one cup.
It is safer than their old stovetop kettle
This feature is one of my favorite things because it will not boil over and cause a fire. There is a switch that will turn the kettle off if liquid is not detected inside. Compared to a stovetop kettle, they can set the kettle and relax. They adore the idea of letting the kettle work without having to intervene to prevent an accident.
It is very easy to clean
The stainless steel can be easily wiped off with soap and water. If they want to clean the inside of the kettle, they will add soap and hot water. They love the idea that the kettle is simple to clean without too much effort. Since they don't have a dishwasher, the kettle is convenient for washing by hand. They don't like to use chemicals to clean their dishware, and soap and water is an excellent way to clean the kettle.
The price is very reasonable
Some kettles run into the hundreds of dollars, but this one is little bit cheaper and reasonably priced. The price is great, especially through Amazon, and I was able to get them a coffee mug set, too. I was jubilant to get them something of excellent quality that they could use. It was a huge deal breaker for me when it came down to the quality of the product and its price.
As with a lot of online purchases, I had to see what the pros were.
Rapid-boil system
Stay cool handle
Quality built
Convenient
Minimal plastic
Kettle automatically turns off
Large, comfortable handle
Reasonably priced
Detachable base
Keeps beverages hot
Easy to clean
On the other side, I needed to see what the downsides of this product were.
Water level meter behind the handle
Very noisy
Uninsulated container
Opening the lid causes water to splash
Hot water can leak through the seams
Lid lifts at 45-degree angle
After reading the cons, I looked further into the features to see what made it stand out.
360-degree rotating base
Metal mesh filter
Concealed heating elements
Lightweight
Auto shutoff with boil-dry protection
Drip-free spout
Large capacity to hold water
On-off switch
The features that were listed were almost enough to sell me on it, but I decided to look at the Frequently Asked Questions.
​Q: What is the wattage?
A: The wattage is 1500W.
​Q: Does the side of the pot get hot?
A: Yes, because it is uninsulated stainless steel.
​Q: Is it UL approved?
A: The Underwriters Laboratories (UL) conducts testing on all electrical equipment. They ensure that the equipment is meeting the electrical standards. The kettle does meet the UL standards.
---
Final Verdict
The benefits were enough to pull out my credit card and purchase the Hamilton Beach Electric 40880 Kettle.
Though there were some concerns regarding the kettle, I decided the benefits were worth it. The detachable base, the price, and the large capacity were enough to outweigh the cons. There may be a few defects, but the reviews I read were more positive than negative.
So far, my grandparents have not complained about the kettle. I believe that it will last them for at least a few years before it goes the way of their old stovetop kettle.