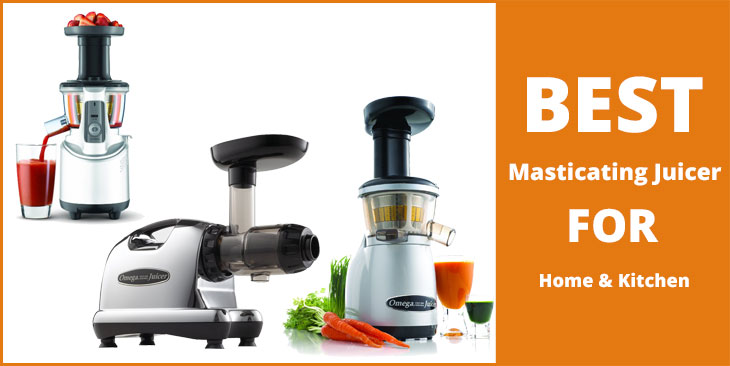 Best Masticating Juicers of 2023 – Buyer's Guide & Reviews
When it comes to eating healthy, the most important thing you can do is make your own food. From cooking for yourself to making juices, the more time and effort you spend in making meals, the better off you'll be.
If juice is something that you want to make more of, then a masticating juicer is the best way to get it. A masticating juicer (also known as a slow juicer) processes your ingredients much more efficiently than a centrifugal model, and will generate higher yields.
Today, I'll be showing you high-quality masticating juicers on the market, and finding the best masticating juicers from them as well as the reasons you should get one.
What is a Masticating Juicer?
When looking at juicers, there are three main types.
Manual
This is when you physically press your ingredients into an auger or something similar to extract juice. This method is time-consuming and exhausting, but can generate high yields, provided that you press hard enough.
Centrifugal
This type of juicer works very similar to a blender, in that it processes the juice using a centrifugal system to draw the liquid from your ingredients. This method is quick, but can leave more liquid in the pulp than you may want.
Masticating
Mastication is the process of chewing food to break it down and extract the nutrients from it. A masticating juicer crushes, squeezes, and presses your fruits and vegetables to extract more juice and preserve the vitamins and minerals contained within.
How to Choose the Best Masticating Juicer - Things to Consider
There are a wide variety of masticating juicers out there; that's why it is so difficult to find the best masticating juicer for your needs. Here are some of the most important features to look at when deciding on which one to buy.
Time
No matter which model you choose, a masticating juicer will be slower than a centrifugal juicer. However, some units are comparably fast, while others can be noticeably slower.
If efficiency and maximum yields are your primary concern, then opt for a juicer with a low rpm rate. That means it will process your food a bit slower but will also have a higher output.
Otherwise, if speed is more of a plus for you, choose a model that has a high rpm rate (1500 or more) that will masticate much faster than other units. The tradeoff is that you may not get as much juice, or the nutrients may not be as well preserved.
Cost
Unlike a blender or centrifugal juicer, most masticating juicers are expensive. If you look at your juicer as an investment, rather than a novelty, then the price will be worth it.
High-end models can cost upwards while lower end units can be a little bit inexpensive. Most juicers will also come with an extended warranty (10 years or more), so you can be assured that the price means a high-quality and durable machine.
Also, to maximize the cost effectiveness, you may want to choose a juicer that can also process other foods, like nuts and leafy greens.
Versatility
Some masticating juicers can also chop foods, make nut butter and nut milk, and even help you make homemade baby food. If you want a machine that does more than just juice, look for a model that can do other things.
Some high-end models can even make frozen drinks and pasta, so you can choose a unit that will essentially be several devices in one.
Juice Shelf Life
If you plan on making a lot of juice, one of the most common issues is that of shelf-life, since you won't have access to preservatives to keep the vitamins and nutrients intact. Thus, you will be limited regarding how soon you have to drink your homemade juice.
Some masticating juicers use a super efficient operation that reduces oxidation (one of the leading causes of nutrient loss), meaning you can keep your juice fresh for up to 72 hours.
Other models, however, only guarantee your juice to stay fresh for 48 hours or less. Depending on how much product you'll be making, choose a model that will keep your product fresh for as long as possible, so you aren't wasting food.
Juicing is not a replacement for actual fruits and vegetables. Eating raw ingredients means you get more fiber, which helps to reduce the amount of sugar and calories you consume. While juice does have more nutrients and vitamins, you still need roughage to keep your body working properly.
Since you have to process multiple fruits to make one glass of juice, the sugar content of that liquid will be much higher than if you ate the fruit instead. For example, it may take three or four oranges to make one serving of juice, which means you get the same sugar as four oranges without the fiber to help mitigate the sugar content. Keep this in mind, as too much juice can lead to health problems like diabetes.
10 Best Masticating Juicers for Home and Kitchen
The masticating juicers that we will describe below have excellent performance, as well as other convenient accessories that guarantee that your investment is worth it.
First on our list is the Omega J8006 Nutrition Center Juicer. Omega is one of the top brands when it comes to juicers, and the J8000 series is a perfect example of the company's commitment to excellence.
The Omega J8006 juicer uses a powerful motor (equivalent to 2 HP) to crush and separate your juice at only 80 rpm. Other models usually operate at a much higher rpm rate, which can destroy essential nutrients and vitamins.
It is a two-stage juicer that crushes the fruit or vegetables before squeezing the pulp to maximize the amount of juice created. It's important to note as well that although this model operates at a lower rpm, it does not make it noticeably slower than other units. The lower rpm also makes this one of the quietest juicers on the market.
The J8006 juicing method is designed to get the most liquid out of your fruits and vegetables. The system is built to reduce oxidation (foaming) and allow you to store your juice for up to 72 hours. In other models, the juice only lasts for 48 hours or less, so you have much more versatility with the Omega J8006.
Unlike other juicers, the J8006 is an all-inclusive nutrition center. It's powerful motor can enable you to create nut milk and butter, create organic, all-natural baby food, grind up coffee, and anything else you can imagine. You're only limited by your own creativity with this juicer.
This model has a 15-year warranty, so you know that it is durable, dependable, and the highest quality masticating juicer available.
​
High juice yield; auto pulp-ejection function for continuous juicing
UL- and cUL-approved
Easy-to-use masticating juicer with powerful motor
Low speed of 80 RPMs; no foaming, clogging, or heat build-up with 110 volt
Dual-stage juicing system
15-Year manufacturer's warranty
Next, on our list is the Breville BJS600XL Fountain Crush Slow Juicer. This model is very simplistic and could be mistaken for a centrifugal juicer at first glance.
However, unlike its centrifugal counterpart, this masticating juicer helps you get the most nutrients and liquid from your fruits and vegetables in less time.
The BJS600XL Juicer processes your raw ingredients with a powerful 240-watt motor that is as quiet as it is efficient.
One of the highlights of this model is the reversible direction control, which allows you to dislodge any food that has gotten stuck in the system. This unit also has advanced safety features such as an overload sensor that turns the motor off if the receptacle is too full. Also, the juicer will not turn on unless all components are locked in.
Cleaning this juicer is a breeze with the included filter basket and removable components. You can easily break down the entire unit and clean everything quickly without any hassle.
The Breville BJS600XL also comes with a one-year limited warranty.
​
Ultra quiet 240-watt motor
Masticating juicer extracts maximum juice yield from soft fruits and vegetables
Direction control ensures fruit or vegetables can be dislodged from juicing screw
Filter basket with auto purifying for maximum yield and easy cleaning between juicing
Filter basket with auto purifying for maximum yield and easy cleaning between juicing
1-Year manufacturer's warranty
Moving right along, here we have the Hurom HU-100 Slow Juicer. This unit is very similar to the Breville model regarding looks and operation, although the Hurom has some important differences that make it unique.
The HU-100 Juicer is much more gentle and deliberate in the way it processes your foods. Operating with a 150-watt motor, the HU-100 gently presses the material, rather than grinding or mashing.
This system is designed to preserve the nutrients and vitamins while also providing the most juice possible. Just like the Omega, this unit operates at only 80 rpm. The gentle operation also makes this juicer practically silent.
The HU-100 is made of high-quality Ultem material, which is much stronger than plastic and will last for years. In fact, Hurom guarantees the product's quality with a ten-year warranty.
Cleaning this unit is a snap with fully removable components that wash off quickly and efficiently.
​
Using Hurom's cold-pressing system, 35% more juice is extracted
Hurom's patented Slow Squeezing Technology(TM) (SST) gently squeezes ingredients
The cold-press juicer features a heavy-duty Ultem® strainer and auger
It can easily process fruits, vegetables, leafy greens, wheatgrass, nuts, and soy
10-Year manufacturer's warranty
As I mentioned above, Omega is probably the gold standard when it comes to juicers, and the VRT350 is no exception. Much like the J8006 model, this juicer will last a long time and will provide you with the most juice possible.
The VRT350 is a compact, vertical juicer that uses a high power motor to squeeze the most juice out of your fruits and vegetables. Like the J8006, this model operates at only 80 rpm, which means it reduces oxidation and keeps the vitamins and nutrients intact. The biggest difference between this and the J8006 is the size, with the VRT taking up much less space.
Similar to the J8006, this is a Dual stage juicer, that first crushes the ingredients, and then squeezes the remains to extract as much juice as possible. Since it is so efficient, you can also store your juices for 72 hours.
Cleaning is also incredibly easy with this model since it has an auto cleaning function. Also, in case food gets stuck in the system, you can switch to reverse and remove any large materials.
​
Capable of juicing wheatgrass at high yield
Low speed juicing prevents oxidation on degredation of juice
Auto cleaning system
Compact base
Next up is the Kuvings B6000S Whole Slow Juicer. The reason that this model is called a whole slow juicer is because the wide opening at the top (three inches) allows you to put whole ingredients into the system.
With most masticating juicers, you have to chop up larger fruits and vegetables before tossing them in. However, you can cut down your prep time with the B6000S.
This juicer not only reduces your overall prep time, but it processes food remarkably fast for a masticating juicer. Unlike other models, you can squeeze a whole glass of juice in mere seconds with the B6000S. That's because the motor is super powerful (240 watts) but only rotates at 60 rpm.
Also, this unit uses a high-quality Ultem screw to maximize the amount of juice without damaging the vitamins and nutrients. In addition to juices, you can also make frozen drinks and nut milk with this model.
Cleaning this unit is a breeze with removable components and a heavy-duty cleaning brush that comes with it.
The Kuvings B6000S comes with a ten-year limited warranty.​
​
Patented, breakthrough 3" wide feeding tube can easily accommodate whole produce items
Produces richer and more full-bodied juice
Fresh and pure juice in mere seconds
Includes BPA free blank strainer
10-Year Warranty
Although Omega is certainly a high-end juicer manufacturer, if you want the absolute top of the line model, choose the Tribest Green Star Elite 5000.
While this unit is much pricier than other juicers, it will provide you with a total nutrition system that will last for years.
The GSE-5000 is a complete mastication juicer. What that means is the system in this unit has three stages to cut, grind, and squeeze your ingredients, very similar to the way we chew our food. This revolutionary system ensures that you will get the absolute most juice as well as the most nutritional value from your raw ingredients.
The GSE-5000 is super versatile and powerful enough to process nuts for butter and milk, grind coffee, and make baby food from scratch. Whatever you're in the mood for, the GSE can help you make it. Also, you can store your juices for up to 72 hours with minimal loss of nutrients.
Cleaning this juicer is simple, yet a bit more labor intensive than other models. The components are removable and washable, but the mesh filter is a bit harder to clean than other units, such as the Omega. However, one thing that helps the cleanup process is the fact that this juicer separates and ejects the pulp as it processes, so you can collect it much easier.
The GSE-5000 is made of high-quality materials and comes with a 12-year warranty.​
​
Automatic pulp ejection for continuous juicing and easier clean-up
Easily juices most fruits, herbs & vegetables and grinds nuts, grains
Works as a food mill for preparation of baby foods, sorbets and nut butters
Easy to clean and assemble
Portable with balanced sure-grip handle for easy carrying
12 Year Warranty
Next, we have the Champion G5-PG710 Juicer. Simplicity and ergonomics are the defining features of this juicer, which looks more like a sausage machine than anything else.
However, the Champion works as well as the brand name would suggest, and it comes with some powerful components.
The G5-PG710 is a dependable and powerful juicer. Powered by a ⅓ horsepower motor, the Champion squeezes and presses your raw ingredients into juice quickly and efficiently, while maximizing the amount of juice created. Operating at 1725 rpm, this juicer is one of the fastest on the market, without reducing the amount of juice.
In addition to juices, you can make sorbets, frozen treats, nut butter and milk, and even baby food. The simplistic design and powerful parts enable you to make anything you want in a fraction of the time it would with other machines. With the wide 1.75 inch opening, you don't have to cut down materials as much as with other juicers, saving you prep time.
The Champion also comes with several warranties:
10-year limited manufacturer's warranty
One-year warranty on blades and screens
Three-year warranty on the motor
Five-year warranty on all juicing parts
Powered by a full 1/3 horsepower
Large 1.75" Diameter Feed Tube
Heavy-duty General Electric motor
Use as a homogenizer to make veggie loaves, Frozen Sorbets, Sherbets, Baby Foods, Fruit Sauces and Nut Butters.
10 Year Limited Manufacturers Warranty
Our final Omega Juicer on this list is the J8004 Nutrition Center. When comparing the J8004 model to the J8006 that we reviewed above, there are not really any differences between the two units. The primary distinction is just the price.
The J8006 is more expensive than the 04 model, but it also has a better mastication system, which allows for grinding as well as food processing and juicing. The 04 model does not seem to have a grinding function. Otherwise, these models are pretty much identical.
The Omega J8004 Nutrition Center operates with a powerful motor (equivalent to 2 HP) to make juices, nut butter, baby food, and frozen treats with ease. Running at 80 rpm, this juicer crushes and squeezes your ingredients to not only maximize the amount of juice created but to preserve the nutrients and vitamins contained within. The Omega system is so efficient; you can store your juices for up to 72 hours with the minimal reduction in nutrition.
The powerful Ultem auger processes not only juices but anything else you can think of as well. In addition to the juicer, you can chop food, make nut milk and butter, and even make your own pasta. The versatility of the Omega system is unmatched. The J8004 is also super quiet, due in part to the low rpm operation.
​
Dual-stage juicing
Easy to assemble, operate, and clean
Masticating juice extractor with powerful single-gear commercial motor
High yield with very dry pulp
Ships in Certified Frustration-Free Packaging
Nearing the end of our list, we come to the SKG New Generation Masticating Juicer. This vertical juicer has some elegant features that make it a worthwhile investment, and it looks stylish with a vibrant red coat.
The SKG Juicer operates with a 240-watt motor and runs at only 60 rpm. The low rpm rate results in more juice extracted in the same amount of time. Whereas other units with high rpm rates (1500 or more) can leave juice sitting in the pulp, the SKG will squeeze out as much as physically possible, so you get the most out of your ingredients.
Another benefit of the SKG is the wide mouth chute. At three inches, it's larger than most other juicers and enables you to put whole ingredients into the machine without having to chop them up first. You can save a lot of prep time with this juicer, which is always a good thing.
Durability and dependability are part of the SKG brand, and all components of this juicer are high-quality and will last for years. The unit is made of stainless steel and TRITAN food-grade material, which is much more durable than plastic and will not oxidize your food.
The SKG comes with a 10-year manufacturer's warranty​.
​
Low Speed Minimal Oxidation Masticating Juicer
3" Inches (76MM) Big Mouth Wide Chute
23 LBS Heavy-Weight High-Quality Anti-Oxidative Build
10-year manufacturer's warranty​
Finally we come to the Gourmia GSJ200 Slow Juicer. This is one of the least expensive models on this list, but the lower price doesn't diminish the quality of this machine.
The GSJ200 uses a proprietary MasTraction system that runs at a low rpm (around 80) to maximize the amount of juice extracted. The low rpm rate also means that more of the nutrients and vitamins are preserved, making your juice much more potent.​
This model is not only able to accommodate fruits and vegetables but leafy greens and nuts as well. Make nut butter and baby food with this juicer as well as high-quality juice.
Cleaning the GSJ200 is a breeze with removable components that are also dishwasher safe. Easy to take apart and reassemble, the Gourmia Slow Juicer is both versatile, durable, and most importantly, quiet. The stainless steel exterior helps reduce overall noise. If you keep a towel underneath the machine, you may not even realize that it's on.
​
Exclusive MasTraction system features a low RPM rate for supreme juice and nutrient extraction
Broad spectrum juicer accommodates fruits, vegetables, nuts and greens
Zero loss power train for optimal powerful juicing
Juice faster with large removable pulp tank; all removable parts dishwasher safe
Reduce noise during operation with carefully designed stainless steel exterior
---
Final Verdict
When it comes to finding the best masticating juicer, the Omega J8006 Nutrition Center Juicer is a top contender. This powerful juicer uses a slow, masticating extraction process to break down fruits and vegetables, preserving their nutrients and enzymes. The result is a high-quality juice that's packed with vitamins, minerals, and other nutrients.
One of the standout features of the Omega J8006 Nutrition Center Juicer is its versatility. In addition to juicing, this machine can also be used to make nut butters, pasta, and even grind coffee beans. This makes it a great choice for anyone who wants to explore a variety of different healthy recipes.
Another great feature of the Omega J8006 Nutrition Center Juicer is its durability. Made with high-quality materials, this juicer is built to last and is backed by a 15-year warranty. This means you can enjoy years of healthy juicing without worrying about replacing your machine.
Overall, the Omega J8006 Nutrition Center Juicer is a top-performing masticating juicer that's perfect for anyone looking to improve their health and wellness. Whether you're a juicing novice or a seasoned pro, this machine is sure to become a staple in your kitchen.
Alternatively, if you have money to burn, the Tribest Green Star Elite is the best masticating juicer available on the market.
However, if you like to make nut butter and milk, and your wife sometimes makes pasta, you would like to have a machine that can process everything by itself, rather than get a bunch of different devices. That being said, though, if you just want a straight juicer, I would recommend any vertical juicer, but I like the SKG, the Kuvings, or the Omega VRT350 mostly.
Finally, I like the wide mouths of the SKG and the Kuvings, which can help reduce prep time. I always spend a lot of time prepping my ingredients, so anything to help make that less of a hassle is a big plus in my book.