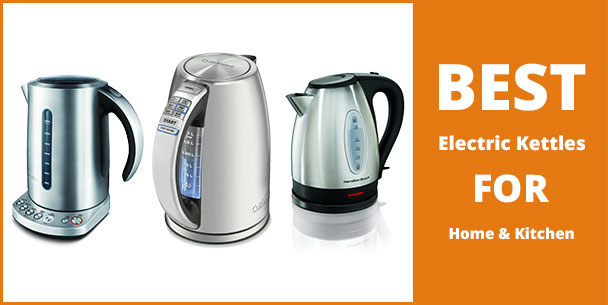 Best Electric Kettle 2021 – Buyer's Guide & Reviews
If you are craving tea, your instinct is to fill up your kettle, place it on the stove and wait for your water to warm. Stove-top kettles are a great option for those of us who love the whistle of an old-fashioned kettle rattling on the stove.
However, if that loud whistle isn't your "cup of tea," you may want to consider an electric kettle. With an electric kettle, you do not have to worry about hurrying to take the kettle off the stove for fear of over-boiling.
Electric kettles are low-maintenance and perfect for individuals who don't have the time or patience to deal with a stove-top kettle.
Electric kettles are inexpensive plastic or steel vessels that boil water using electricity. If you peek inside, you will find a thick metal coil known as a heating element. Once you plug your kettle into an electrical outlet, a large electric current flows through the heating element and boils your water rapidly.
With most models, you will not have to worry about over boiling and potentially drying out your kettle, starting a fire, or causing it to bubble over and creating a mess on the counter. Why? Most electric kettles come with an automatic shut-off feature.​
With electric kettles, you can have your water when you are ready. And, when that time comes you do not have to worry about being restricted to a cord. Some kettles pop off of their heating base, so you don't have to drag cords across the room.
How to Choose the Best Electric Kettle - Things to Consider​
Shopping for the best electric kettle can be difficult if you don't know what you are looking for or if you are accustomed to the traditional stovetop kettle. Here is an introductory guide you should know before buying an electric kettle, followed by a list of top rated electric kettles.​
Boiling Time
Electric kettles have an array of capacities ranging from one liter to two liters, but an ideal capacity is 1.5 liters. With that said, consumers want to know how fast the kettle can boil that amount of water.
Boiled water is usually used for teas and coffees, and consumers want a kettle that will boil enough water for a few cups of either. No matter what you are making, it is likely that you want hot water in a matter of minutes.
Most quality kettles will boil water in three to four minutes or less. The less time it takes, the better the kettle.​
Auto Shutoff or Boil Dry Protection
You take your traditional stovetop kettle, which took more than the average length of an electric kettle to boil water, fill it with water, set it on an open flame and wait for the water to boil.
If it's late at night and you are just getting in from a long day of work, the last thing you want to do is wait over ten minutes for a cup of tea that should be instant. You may drift off into a deep sleep while you wait for the water to boil or occupy your time with another activity.
Before you know it, your water is bubbling over or dried out. You either get to it to find that you have to clean the spilled water off of the counter, or pull your dried out kettle off of the burner.
Fortunately, most electric kettles come with automatic shut-offs and boil dry protection to prevent your water from over boiling and potentially ruining your kettle.
I wouldn't turn on an electric tea kettle unless I could stand over it and wait for the water to boil, as it cooks quickly. If your pot lacks a keep warm option, but it offers the automatic shut-off, I would highly recommend monitoring your water carefully. If you mistakenly wait until the water gets cold, then you will have to reheat the water - which is not healthy or energy efficient.
If you are one who tends to forget, then you definitely want to invest on the best electric kettle with a keep warm feature as it will keep your water warm for an extra thirty minutes to an hour depending on the model you choose.
This will save more energy, benefit your health because you will not have to reheat the water, and give you more time to get things done during the boiling process without worrying that your water will over boil or ruin your kettle.
Cordless Model or Removable Base
Electric kettles are supposed to be an upgrade from the traditional stovetop kettle, while offering the same advantages of the freedom to move to your kettle.
Most kettles come with a cord that has to be plugged into an outlet. Thankfully, most brands considered the fact that the cord may get in the way of pouring when designing the kettles. Therefore, they have designed cordless models or models with a detachable base that stows the cord away neatly.
The removable base also allows you to lift the device and carry it around without being restricted by a cable.
10 Best Electric Kettles for Home and Kitchen
The electric kettles that we will describe below have excellent performance, as well as other convenient accessories that guarantee that your investment is worth it.
| | | | | |
| --- | --- | --- | --- | --- |
| | | | | |
| | | | | |
| | | | | |
| Drip-free Electric Kettle | | | | |
| Variable-Temperature Electric Kettle | | | | |
| Real Time Display Based Electric Kettle | | | | |
| Clear Water Window Electric Kettle | | | | |
| | | | | |
| Glass Water Electric Kettle | | | | |
| 360 Swivel Electric Kettle | | | | |
1. Cuisinart CPK-17 PerfecTemp 1.7-Liter Electric Kettle

This model heats up quickly, as it has 1,500 watts of power.
The sides get warm, but this Cuisinart CPK-17 PerfecTemp has a stay-cool nonslip handle to avoid burns. It can boil up to one to two liters of water in a matter of minutes.
It also has six different preset heating settings for the perfect cup of tea.
Delicate (160 degrees Fahrenheit)
Green (175 degrees Fahrenheit)
White (185 degrees Fahrenheit)
Oolong (190 degrees Fahrenheit)
Herbal (200 degrees Fahrenheit)
Black (Boil to 212 degrees Fahrenheit)
This kettle has a backlight with measuring marks so you can sneak into the kitchen after hours and use it without disrupting your housemates and it comes with a user's manual that includes recipes.
Another great feature of this model is that it has an easy open lid for quick and easy filling and offers a removable scale filter. If you can't get to the water right away, it keeps it warm for an extra 30 minutes. In addition to this, it has auto shut-off and boil dry protection so your kettle will not dry out or boil over. If it starts heating without enough water, it will shut off.
​
This Cuisinart kettle has an internal memory that allows you to leave the kettle off of the base for a maximum of two minutes without it going into standby mode and comes with a limited three-year warranty.​
​
Highlighted Features:
30-minute keep warm
360-degree swivel power base for cordless convenience
2-minute memory function
1500-watt/110-volts stainless-steel cordless electric kettle with 1-2/3-liter capacity
Concealed heating element
Removable/washable scale filter
Boil-dry protection with auto safety shutoff
6 preset heat settings for steeping tea at just the right temperature
Blue LED indicator lights
Measures approximately 8-1/5 by 9-4/5 by 12 inches
3-year limited warranty
Energy Efficient Technology
2. Hamilton Beach 40880 1.7-Liter Electric Kettle

This stainless steel device is faster than a microwave and safer than a stovetop kettle. The sides of the Hamilton Beach 40880 Stainless Steel Electric Kettle get hot and the outside bottom is plastic which gets warm but it does not get piping hot.
​This allows you to place it on the counter without worry of burning the countertop. The interior bottom of this kettle is made of a stainless plate with the heating element underneath, making cleanup easy.
​
This electric kettle is powered by 1,500 watts and heats your water almost instantly. It can prepare a bowl of soup, a cup of tea, or a mug of coffee.
​
This model automatically turns off when the water reaches a boil, and it has boil-dry protection. It keeps the water warm for up to five minutes. The lid can come off with the push of a button but the cord is about two feet in length. The plug is for 110 v North American outlet.
​
You can serve your water cord-free because you can detach the vessel from the base and it also has two water level windows so you can see when you are running low.
​
Hamilton Beach 40880 Electric Kettle is simpler than the previous model due to the fact that there are no specialized settings. This kettle only has an on/off button. However, this inexpensive kettle does have a drip-free spout.​
​
​Concealed heating element
Faster than a microwave - safer than a stovetop kettle
Cord-free serving
Drip-free spout
Auto shutoff with boil-dry protection
3. Breville SK500XL Ikon Cordless 1.7-Liter Electric Kettle

The Breville SK500XL Ikon Cordless Kettle has a sleek, beautiful design that is easy to clean. Powered by 1,500 watts, it is a sturdy, substantial base unit with a section to wrap the cord around for easy storage and mobility.
This kettle can be rotated on its cordless base, which makes it easier to put it back on the base than some other models.
Another great perk is that it boils 1.5 liters of water in four minutes and is more hefty and durable unit than some of the expensive models.
​
It is made of stainless steel and has a transparent wall segment to measure water level. While this "window" is not located optimally and hasn't got a bright floating level marker, this design is sturdier than some others and is less prone to leaks. The blue backlight lights up when the kettle is powered on and makes it easier to read the water level.
​
Lastly, this kettle has an easy-to-open the lid, wide to add water with no problems or dripping and the heating spiral is not enclosed in the boiling case but rather underneath it. This feature makes the design more reliable and the kettle easier to clean inside if need be.
​
Cushion-controlled lid
Water-level indicator
Removable scale filter
1500-watt cordless kettle rapidly boils up to 1-2/3 liters of water
Easy "on/off" switch
Auto shut-off
Soft-grip handle
Boil-dry protection
Measures 8-3/4 by 6 by 9 inches
Brushed stainless-steel housing
1-year limited warranty
4. Hamilton Beach 40894 1.7L Electric Kettle

The Hamilton Beach 40894 1.7L Electric Kettle is made of stainless steel, and it comes in a candy red apple color.
Due to the nature of stainless steel, this model may begin to develop calcium deposits that can be cleaned with vinegar – making it shine like new.
This kettle can be turned on and forgotten since it offers auto shutoff and boil-dry protection. There is also a drip-free spout that controls pouring.
​
Working at a wattage of 1,500, the Hamilton Beach 40894 boils water quickly, allowing you to have ten cups of boiled water in minutes. It is easily portable as it is cord-free, working with a base. The heating element is hidden in the base so you can avoid the open flames that you are exposed to with a stove top kettle.
​
This kettle is faster than a microwave and safer than a stovetop kettle. The handle is directly over the lid which can be a little annoying, but you can angle in a way so you can fill it and pour it easily. It does have a slight "new smell" when pouring off the water, but it is not overwhelming and it doesn't affect the taste. If it bothers you, you can use baking soda or vinegar to get rid of the smell.​
​
Unlike most models that can handle 110 volts to 220 volts, this kettle only functions with using 110 volts.
​
Auto shutoff with boil-dry protection
Faster than a microwave, safer than a stovetop kettle
Cord-free serving
Concealed heating element
1500 Watts boils water quickly
Drip-free spout
5. Breville BKE820XL Variable-Temperature 1.8-Liter Kettle

The Breville BKE820XL Variable-Temperature is powered by 1,500 watts, and it has boil-dry protection. It is a stainless steel kettle with a removable stainless steel base.
This cordless kettle has a base that plugs into the wall as opposed to the pot itself. The detachable base makes it easy to pour and fill the pot.
Both sides of this kettle have a clear water indicator which makes it convenient to check water levels if you are occupied with something else or if you are moving around. However, doesn't have a clear temperature readout.
​
The The Breville BKE820XL Variable-Temperature kettle can adjust to five different temperature settings. Each setting will keep the water warm for an extra 20 minutes. The settings are as follows:
175F/80C - Green Tea
185F/85C - White Tea
195F/90C - Oolong Tea
200F/93C - French Press
212F/100C - Boil and Black Tea
This Breville kettle can hold up to 1.8 liters of water – making it larger than most electric kettles. It is also quite heavy, especially when it is full, and takes a little bit longer to heat. Also, one customer reported that it can shut off before all of the water is adequately heated. Nonetheless, it is ideal for soup, tea, and coffee.
​
Finally, this electric kettle is a little more expensive than its counterparts because of its size and the large array of options that you have in regards to temperature control.​
​
360-degree stainless-steel directional base
Boil-dry protection
1500-watt 2-quart kettle with 5 pre-set brewing temperatures for tea and more
Clearly marked push-button control panel
Water-level indicators on both sides
Hold Temp button keeps water at selected temperature for 20 minutes
Removable scale filter
Measures 7-1/2 by 9-1/2 by 11 inches
6. Bonavita 1-Liter Variable Temperature Electric Kettle

The Bonavita 1-Liter Variable Temperature Digital Electric Gooseneck Kettle is made out of stainless steel, but there are some plastics used for the interior where the base connects to the inside of the device.
With a capacity of one liter, this Bonavita kettle takes six minutes to boil and weighs 2.76 pounds, having dimensions of 7.28 by 10.83 by 7.48 inches.
This kettle also offers the option of preset temperatures ideal for brewing tea or your own to-the-degree custom temperature. The kettle's temperature rises to the degree you set it to and once it reaches that temperature, it shuts off. For an hour, it will display the temperature as it drops until you retrieve your boiled water or until the hour is up and it powers off.
​
After returning the kettle to the base, the hold feature lets the LED display show the temperature for an extra seven minutes. Then, the kettle will power off if you don't reactivate the hold feature.
​
Finally, the gooseneck spout makes pouring quick and splash free, and it has an LED display that is well lit for late night brewing, readable and displays the temperature settings.
​
Real-time temperature display and heat and hold at desired temperature for up to 60 minutes
1000 watts for quick heating
Count-up timer makes it easy to keep track of the brewing process
Commercial UL rating
1-year warranty
7. KitchenAid KEK1722ER 1.7-Liter Electric Kettle

The KitchenAid KEK1722ER kettle has a capacity of 1.7 liters with the option to heat a minimum of 250 milliliters of water.
This model has variable temperature settings adjust from 122 degrees Fahrenheit to 212 degrees Fahrenheit. The temperature remains hot for 30 minutes with the hold temp function, as long as the kettle remains on the base.
The range of temperatures are displayed in Celsius and Fahrenheit, and they are the following:
60 degrees Celsius/140 degrees Fahrenheit
70 degrees Celsius/158 degrees Fahrenheit
80 degrees Celsius/176 degrees Fahrenheit
90 degrees Celsius/194 degrees Fahrenheit
100 degrees Celsius/212 degrees Fahrenheit
Some other features of this kettle include its one-year warranty and the retractable cord that can be hidden in the circular chassis. In addition to this, the lid release button makes it easy to fill the kettle with water and it has a soft-grip handle that stays cool. However, the exterior of the kettle does get hot.
​
Under the handle, there is a water level indicator that is a window of plastic. This KitchenAid kettle is available in Empire Red, Onyx Black, Brushed Stainless Steel, and White, and the heating element is not exposed.​
​
Lastly, the wattage of the kettle is 1,500 watts and the opening of this kettle is large enough that you can get your hand inside and clean it if necessary.​
​
The 30 minute hold temp function maintains the temperature while on the base
1.7 L capacity with the option to heat a minimum of 250ml of water
Cord wrap located underneath the base
Variable temperature settings adjust from 122° F to 212° F
The soft grip handle is designed for maximum comfort and performance
Clear water window with blue LED
8. Ovente KG83B 1.5-L Glass Electric Kettle

The Ovente KG83B Glass Electric Kettle is black and is made out of glass. It weighs three pounds and its dimensions are 9.3 inches by 8 inches by 6 inches.
Like most electric kettles, is has 110 volts to 120 volts, and 1100 watts of power that will provide boiled water in minutes.
It is cordless, which makes it portable and easy to fill and pour and the non-slip 360 degree rotary power base is also detachable and can neatly store the 30-inch cord.​
​
This model, unlike others, has a washable filter for the purest, cleanest boiled water. In addition to that, it has a stay cool handle so that you can pour and move it without any surprise burns.
​
The Ovente KG83B comes with a one-year limited manufacturer warranty and is well lit with blue LED lighting that you can use in early hours of the morning when it is still pretty dark without disturbing your housemates. Light stays on while boiling.
​
Finally, this Ovente kettle has an automatic shut-off and boil dry protection to protect the kettle and prevent over boiling or spillage, the sleek high borosilicate glass bowl is stain resistant and durable, the wide opening allows you to stick your hand inside and give it a proper cleaning, and the water level gauge is ideal and convenient.
​
Concealed stainless steel heating element
1.5L cordless electric kettle with 110/120V
Non-slip 360-degrees rotary power base for cordless easy filling, pouring and serving with 30 Inch chord stored neatly in the base
Automatic shut-off with boil dry protection
100-watt power that boils water 85-percent more efficient than stovetop kettle
Blue LED lighting when boiling
Durable and stain resistant high borosilicate glass body
Comfortable stay-cool handle and washable filter to ensure the purest results
Approximately measures 8 x 6 x 9.3 Inch
1-Year Limited Manufacturer Warranty
9. Capresso 259 H2O Plus Glass Water Kettle

The Capresso 259 H2O Plus has a sleek design that allows you to see the water in its glass dome. It has a chrome finish with black accents and the German Schott glass is durable and heat resistant.
Running at a wattage of 1,500, a voltage of 120, and Hertz of 60, it is UL listed, so it is safety approved.
The device weighs three pounds, so it is not very heavy. Its dimensions are ten by 8.25 by 6.5 inches and it can handle a capacity of 48 fluid ounces or six cups of water.
​
This kettle boils your water quickly and quietly, and it has an illuminated power switch which offers an auto shut-off, so you don't over-boil your water. It also has a boil dry protection so you won't ruin the interior of the kettle. The heating element is enclosed with stainless steel.
​
The base of this Capresso kettle does not get too hot, so you can place it directly on any surface without using a heating plate. There is also a water level indicator with ounce and cup markings for quick, easy filling.
​
Additionally, this kettle's slip-free, textured underside and cool-touch handle allows for safe and drip-free pouring. It also has a cordless design with a 360-degree swivel base that will accommodate right and left-handed use.​ As do other models, this one comes with a one year warranty.
​
Concealed heating element
Cordless glass water kettle lifts easily from 360-degree swivel base
Generous handle with slip-free
Auto shut-off upon boiling for added safety
1-1/2-quart capacity
Textured underside ensures a secure grip
German Schott glass with min/max markings
Measures 6-1/4 by 8 by 9 inches
1-year limited warranty
10. Bonavita BV3825B 1.0L Electric Kettle

Our final item, the Bonavita BV3825B 1 liter electric kettle is made of brushed stainless steel. It does contain plastic in the interior, and the handle is plastic.
Like other models, the Bonavita BV3825B has a gooseneck spout for better pour control. You won't have to worry about that hot water spilling on you. In addition to that feature, this kettle also has a 360-degree swivel, and it can be detached from the base for easy filling and pouring.
​
It has an auto shut-off so you won't have to worry about ruining your kettle or over boiling your water, working with a wattage of 1000 and a voltage of 120.
​
This Bonavita kettle weighs 2.15 pounds and its dimensions are 6.9 by 10.6 by 6.3 inches. It is very light and easy to grab from any angle. The vent holes in the lid allow you to stick a barista thermometer inside and it boils up to 212.5 degrees Fahrenheit before it shuts off.
​
This model has a cord, but it is not retractable and though it does not whistle, you can hear the water boiling inside as the heating element is at the bottom of the pot.
​
Finally, it comes with a two-year warranty, will not rust and does not need to be emptied and dried after every use.​
​
360 Swivel, lifts off base for easy use and filling, 120 Volt
Brushed Stainless Steel
Auto Shutoff
Gooseneck Spout for better pour control
1000W heater for quick water boiling
---
Final Verdict
Whether you are into coffee or tea, most consumers are looking for a modern, sleek machine that will get them boiled water in a matter of minutes. Traditional stovetop kettles were just the device to do so until the market provided electric kettles.
Electric kettles contain a heating element that is usually enclosed in the vessel that heats water efficiently. Their well-designed spouts allow you to pour the water out without splashing it on yourself. The models mentioned above feature an auto shut-off that will prevent over boiling and drying out your kettle. Consider the introductory guide and the list of highly recommended electric kettles to attain boiled water in the blink of an eye.​
​Additionally, the easy to use and beautiful design of the Cuisinart CPK-17 PerfecTemp 1.7-Liter Electric Kettle makes it a great option for those who wants to buy the best electric kettle available on the market.